Intersecting Industry's Nancy Bell interviews Amanda Ridley, Sales Engineer at Columbus Hydraulics.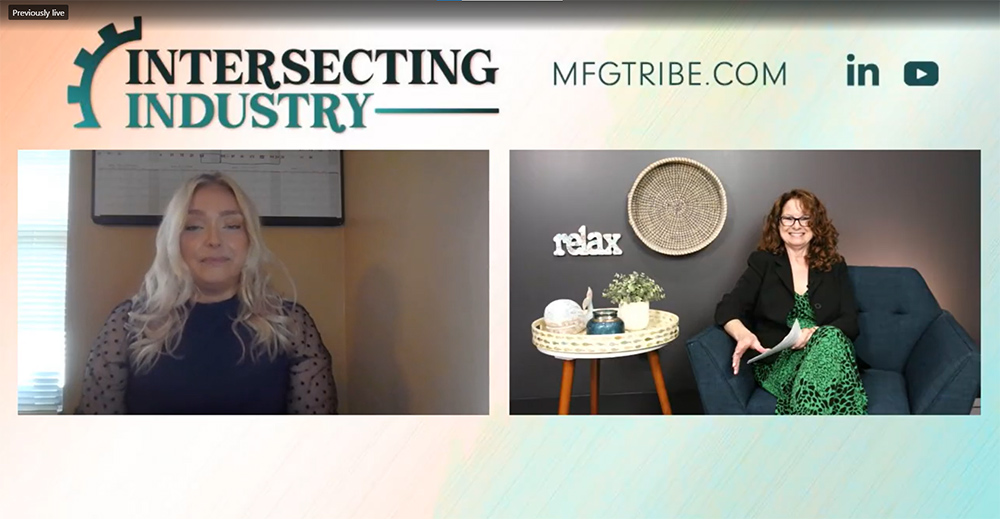 At our custom hydraulic cylinder company, every product is engineered to the customer's demanding requirements. That's why we are staffed with experienced mechanical engineers and technical sales experts. Today we shine a spotlight on our sales engineer, Amanda Ridley, who every day helps customers achieve an ideal design for their applications. We're proud to support women in engineering like Amanda.
Read the transcript below:
Nancy:
Being a sales engineer is so much more than sales. On this episode of intersecting industry, I'll be sitting down with Amanda Ridley from Columbus Hydraulics company, and she will talk about how she integrates her mechanical engineering degree into her sales engineer position. Please welcome Amanda to the show.
Just to let everybody know, you have a Bachelor of Science in mechanical engineering. So, you're a smart girl, and you've been with Columbus Hydraulics for two years and in the industrial sector for almost eight years now. Why don't you tell us exactly what Columbus Hydraulics does?
Amanda:
Sure. Initially, we basically had a machine shop and some grain cart companies needed cylinders, so we started manufacturing those and then other grain cart companies came in and then we expanded to be a full solutions provider. Now we're a total custom cylinder company, so we don't really have anything standard. Everything is exactly for the application and very customer driven. We're in Columbus Nebraska, which is the manufacturing capital of Nebraska. And we're proud to be an American-made company.
Nancy:
So your position there is a sales engineer. Why don't you talk a little bit about that?
Amanda:
The way I approach it, and kind of the way I define it, is quite literally half-sales half-engineering. Sometimes you run into people who say they're a sales engineer, but they don't necessarily have the engineering background to add to that. I provide not only sales services, purchasing, marketing and other parts of the company, but also, I am able to interface with engineers at a technical capacity that's beneficial to them. Because we don't have to fly our engineers out everywhere. I can give technical support on-site relatively easily and bring in my background knowledge of systems to help serve the customer base.
Nancy:
What industries exactly do you work with?
Amanda:
Sure, we work mostly in the mobile industry. Mobile hydraulics. There's a lot of ag out in Nebraska, so we have a ton of ag customers. Construction. Waste. Pretty much anything that's on the road and has hydraulics on it, we deal with.
Nancy:
One of the things that I want to talk about, not just about your company, but how you got started in being interested in mechanical engineering. I know that you had told me that as a kid that you were a take-it-apart-and-put-it-back-together kind of girl. Talk a little bit about that.
Amanda:
My grandpa was a mechanic. He also owned a car dealership. As young as I can remember I was painting his shop, and then from there had a mechanical interest with him. And then my father's basically a software engineer, so I kind of meshed those two together and it became mechanical engineering. I loved it. It was something I basically grew up around, so that inspired me to keep pursuing it.
Nancy:
What's the craziest thing you took apart and put back together when you were a kid?
Amanda:
I did a lot of my own work on my car. My friends were gear heads, so we did a ton of different stuff to my car, other cars, dirt bikes, and quads. We pretty much messed with it in any way you could.
Nancy:
And then when you were in college? Because we on this show we always like to talk about how there's not enough women in this space, so I'm just curious: when you were in college how many women were actually in your mechanical engineering classes?
Amanda:
As far as the smaller ones, like labs and such, it was probably me and one or two others. In the larger classes, like 100 plus, there were about five of us. It was the same girls that were in the other ones, so yeah, it was pretty much five. That's the most I would really see.
Nancy:
There definitely needs to be more women in this industry wouldn't you say?
Amanda:
Certainly. I mean you see more women coming up in the chemical engineering space and more you know not as hands-on engineering disciplines, but certainly I'm very passionate about inspiring other women to feel comfortable in this space and to pursue their dreams. Girls might have that same type of interest, but it just never really gets supported, or they never feel like that's something realistic they can pursue.
It's extremely realistic. Engineering is a hard degree, but if you're as passionate about it, as I am, and the other women that I went to school with, then you can be very successful and be a kind of minority in the industry, but also help prove that women can be here properly. We can talk technically, and we can be just as good as any man, honestly.
Nancy:
To that point, what aspects do you think that a woman has that that brings something different to the table in the industrial space than a man would?
I think the main thing, and what kind of I always say, is an advantage of having a very diverse team. Not even just women, but just a diverse team in general.
Especially women; we have a very different decision-making process than men, so we may think of the problem in another way or have an alternative solution that maybe isn't a tried-and-true solution, but it's valid and it just hadn't been thought of because it's the same type of people with the same type of thinking and the same type of experiences. We're bringing in, you know, very different experiences, and like I said, a different way of decision making and thinking.
I think that's important for a company to rapidly grow, especially in this space right now. If you don't have a diverse team, you're probably lagging behind.
Nancy:
I absolutely agree, and everybody has something to contribute, and when you exclude a sector of it, then you're missing out on, just like you said, another mindset. What aspects of your career being in this industry do you think you can share with other women to encourage them to go into this field?
Amanda:
Especially within Columbus Hydraulics, I'm extremely supported. Everybody treats me like anybody else; nobody downplays any of my ideas, and my intelligence is really respected.
I think that it's a little intimidating, because sometimes it feels like you have to work twice as hard to be recognized and to be respected, but once you develop that respect, it stays with you.
I think the industry doesn't expect to see you, but they're much more welcoming than they have been. Even I've noticed in my years when I first started and now, it's improved. I'm glad to see that. I would like for it to keep improving.
Nancy:
As you and I discussed in our pre-show talk, it's not just about dirt and oil; there's more aspects to it. When you talked about you know how you get to learn new things all the time and how it's real interesting to you.
Amanda:
Yeah, that's the biggest thing that I love about my position is one day I could be working on lawn mowing equipment and the next day we're doing balers or something like that. It's exciting to see all these different things you get exposed to all these different plants in different industries.
You can apply knowledge from another sector into this sector to solve a similar issue. I think the constant learning… I wouldn't be happy in a position that I wasn't constantly learning. I'm very satisfied because I learn a ton every day, and I like to keep doing that. That's why I think other women should, you know… you don't have to be a secretary; you can be out there discovering new things and reaching your full potential.
Nancy:
In your in your career, what roadblocks have you had to overcome?
Amanda:
I would say there's—like I kind of mentioned before—it's easier for me to go into maybe like a cold-call situation because they don't really want to be mean to you as much as a woman and they're usually much more accepting of that. Once you get into talking to the engineers and you start to get to the technical side of it, you have to do a lot more to earn that respect, but once you have it established at the customer, you can really do anything.
I mean it may take a little more to get there. You may need to work harder than your male counterpart, but as soon as you prove yourself you have that respect and you have that customer's loyalty,
Nancy:
So, leading into that, we actually had a conversation about one of your favorite projects that you worked on so why don't you geek out a little bit and tell us about that, because it's a pretty interesting story.
Amanda:
When it was early in my career, we had a customer call up. They had a quick coupler, which basically goes on the end of your excavator loader and can switch attachments. Two pins come out; they lock in the attachment, and then also they retract in to release the attachment.
So we get approached, and the customer says to me he's like, yeah we have like a 60 percent warranty on these. These are really bad; this loses a lot of money. Can you make them, and just you know, maybe if your company makes them, they'll make them better.
Instead of just passing off the drawing and just asking them to remake what's already not working, I dug into the problem a little bit more. I actually went out to a customer of theirs who actually had this, and I talked with them, how do they use it?
Come to find out that the operators would just sit on the button and just keep it extended or keep it retracted like just pressurizing it until they're like, okay, I'm sure it's locked now. They would bring the arm up and actually shake it to make sure the bucket or whatever or grapple would stay on. That was their way of a safety check, which you know OSHA would very much frown upon, I'm sure.
Knowing how the operation goes, I looked at the internals of the cylinder itself and saw basically how they had it designed. It was just a double piston rod design line, but it was meeting on a round surface in the center and that was actually causing the pistons to want to warp around it when it was over pressurized. Because they just would, like I said, stay on the button.
So suggested to change that and make it just a trunnion in the middle and actually made the cylinder half an inch smaller so it actually got faster, but it was more robust because of that flat surface for the pistons to stop on in the center. That led to them almost having no warranty claims for this anymore.
They were extremely satisfied and a very loyal customer to this day. I appreciate them taking my ideas, because at that point, I was maybe a year into it. So it was it was pretty exciting.
Like I said, I still have their loyalty to this day so, and they appreciate every idea I have, and they'll always listen to it. That's kind of what I meant about you might have to work a little harder and show a little bit more drive, but once you get that respect, you've got it.
That project really helped instill confidence in me that my ideas are valid even though it's something they haven't done before or no other cylinder company was proposing that. I felt really good that I had come up with that idea and it worked out really well.
They were really happy, which is obviously the most important part,
Nancy:
And what a way to start out your career.
Amanda:
It really jump started things with them and you know they were doing about a million dollars with us after that.
Nancy:
So oh even better.
Amanda:
Yeah they were only doing about, if I remember correctly, about 200,000 dollars when I took over, and then we fixed this issue and we grew from there.
Like I said, there's still a very low customer to this day; they basically followed me with whatever company I go to, so that's really you know it's really it makes you feel really good
Nancy:
And that's a win-win for everybody. It's a win for you, and it's a win for the company that you go to work for.
Amanda:
Yeah, it's hard to ask a customer to pay more for something right, and this was a pretty significant increase for them, but due to all the warranty claims and what not they had, it was a no-brainer for them. They were like, this was a great idea. And it worked, and it's even faster than we had originally designed, so they didn't mind paying that extra price tag.
Nancy:
That's a wonderful way to start out your career and very exciting for you. How do your peers view you in your position in the industrial space? AKA your girlfriends, what do they think about that?
Amanda:
I try to explain it to them, sometimes they're like totally checked out or like, I don't understand what you do. But I share with them some stories like that, and they're just like, wow and that's crazy. It just, like I said, it comes from a mindset a lot of women to kind of stay under the radar, not be too confrontational, not be too out there and all that.
But yeah, they have a tough time understanding—you know— kind of the technical side mixing with the sales side. They understand how sales works, but when you add that technical aspect where I'm like, yeah, I'm looking at this circuit and designing this and they're just like huh?
Nancy:
I think it's interesting. I have conversations with my girlfriends about marketing and they do the same thing, so it's not just I guess because whenever you're talking about industrial companies there are a lot of females out there that don't understand a lot of the aspects that go into manufacturing and industrial space they're almost inquisitive about why are you interested in this? Not so much the process, but why is this something you're interested in. Is that something that you find?
Amanda:
Oh yeah, definitely. It's kind of like, well, why do you want to go climb all over that excavator and you know help them with this?
Nancy:
Because it's cool.
Amanda:
And sometimes when I explain certain projects, they're like, oh wow, that does sound really neat.
But you know the other half of the time you're explaining how you took an oil bath or something like that—which if you're not really in hydraulics you haven't in my opinion— but they're just, why would you want to do that? Why would you want to go out to this paper mill where there are these conveyors shooting up huge trees to mulch them and you had to wear a hard hat? And like, why would you want to be there?
I'm like, because it's just really interesting. It's fun. Like I said, it keeps me learning and just stimulates the brain, honestly.
Nancy:
I know that you have surprised a few men by going out in your steel-toed tennis shoes and turned wrenches.
Amanda:
Yeah, so we had a customer that—he's usually difficult to work with as far as on a sales side. He doesn't really respect sales people because he thinks they kind of don't bring anything to the table.
We were going for a startup, and he approached me. He said there's no way you're here to turn wrenches. I was like, yes I am, and he was like, you're not even wearing steel toed shoes. I said do you want me to kick you with them and you can find out? Then he stopped from there.
Nancy:
What qualities about yourself do you feel makes you a good sales engineer, like what what makes somebody want to do business with you?
Amanda:
I'm very much driven. I like to dig really deep into the problem. If the customer says hey, this cylinder's drifting, I don't just say okay, well we'll replace the seals or what not. I want to dig into it. I want to look at their circuit. I want to look at the valving and all that, and even problems that might not fall under my jurisdiction. If they talk about it, and I have an idea of how it might be mitigated, I give it to them.
They're so much more appreciative when you're solving a problem they have that's not really your problem.
Troubleshooting is honestly one of the favorite parts of my job. I would say it's my problem-solving drive that's higher than more of the profit seeking or trying to get the quick buck. I'd much rather figure out what the problem is, address it, and come up with a solution that me and the customer agree with and go from there, knowing that I actually put in effort. I didn't just walk in and ask for a PO.
Nancy:
Because it's all about the customer experience. I know that for you that's something that's very important.
Amanda:
Yeah, I always say I'm 51 for my company and then 49 for the customer, because as a salesperson. I believe that you're the one who's representing your company so you have to have a big loyalty to them as well. You have to make sure you're doing things right, because anytime you take the shortest route or the route of least resistance it comes back to bite you, and customers remember that.
I'm happy to say that most customers I've dealt with, when I give them a call, they're like, oh it's great to hear from you, you want to come out? It's not really that they feel like I'm trying to sell them something.
That sounds funny in sales. I'm more trying to promote solutions, and that's really what we're offering: we're offering a total solution as opposed to just a component sale,
Nancy:
Right. Because you have to build that base with them, and part of that base is listening to them, hearing them, and really trying to solve their issue. If you can't do that, then you're really probably not going to get their business.
Amanda:
Yeah, the best salespeople in my opinion listen more than they talk. They go tour the plant, they listen to the customer, they ask maybe the assembly guy, hey, how long does it take you to do this and you know different things like that, and just listen and not just try to come up with a solution on the spot. Not try to just have an idea of what you're going to promote beforehand and then walk in just tunnel visioned on that what you're trying to promote.
You listen because they might have a problem that they wouldn't normally say if you were just pushing pushing pushing for what you want to sell.
That's when the customers respect you the most, and that's when the customers are most loyal: when they know you're going to hear them out, you're going to put their interest first, and provide them with a total solution.
Nancy:
Absolutely. We kind of established that there's not a lot of women in the industry and I want to talk about company culture, because I know that you've gone into companies where the culture isn't diverse. How important do you think company culture is to being inclusive of women in the industrial space?
Amanda:
I think that's one of the most important things. If you walk in and everybody in your position is a man and you walk into the room and then they have to change some things that they do to cater to you, it feels much more like you're kind of a burden or you're not really supposed to be there.
But at a company that that wants to learn and wants to promote your ideas and wants a different opinion and have a diverse workforce and also the culture to back it up, where you know it's okay to speak out, and you don't feel micromanaged and you don't feel that there's only a specific mold for members of the team.
I run into companies all the time like that; you see every sales guy on the team is a different version of the same person. That's not going to work for all your customers, and it's not going to help promoting new ideas.
As supportive as the company can be, and as diverse as they can be, it makes you feel more secure working there. You feel more confident representing that company. You don't feel like you're always proving yourself. You feel like they know my worth, and I really appreciate that. I can be successful with that.
I'm really happy to have that at Columbus.
Nancy:
Knowing you're valued is one of the things that that I talk about quite often: you have to know what your value is. Nobody knows it unless you teach it to them, and how refreshing it is to actually work for a company where you don't have to teach it to them all the time; they know, and they understand, and they give you that respect, and the same with your clients.
Amanda:
When I started working at the company, I was actually in my interview, I was asked by the engineering manager, like, hey, so tell me about being a woman in the industry, like what have you experienced?
The fact that he wanted to hear what I had gone through and what it's like, my whole experience, it was it was really refreshing. They really heard me out and were like, wow, I can't believe stuff like that actually happens, but I can see why that it happens with some of these customers because they don't have that great of a culture.
It makes you feel really confident and that you're not trying to prove yourself. You're just demonstrating your knowledge and your worth, and they respect that and don't question that. I think that's important for customers. Sometimes you'll run across ones that like I said you have to work a little harder for that.
My proudest moment converting a customer was someone who had been in the industry for over 30 years. He was the owner of the company, and he sat me down and would say, like, Amanda, like you're a really smart sharp girl. You come in here with a lot of knowledge. You always help us out.
Just changing his mind when originally it was like, what do you know about hydraulics, or why are you here? They don't even acknowledge you when you come in. To go from that to the respect level that I have at that company specifically I felt really accomplished.
If I could convince them or a bunch of Florida rednecks to support women, and he's even supported other female sales ladies that have commented since then, which is a total change for him, so it was really exciting to be a part of that.
It changed someone's mind, because if they don't give you the respect you deserve then you have to demand that respect, and you have to command it once you have it. That's what's going to change the mind of other companies that don't have such a positive view on women in this space.
I think the more women that get involved and the more technically savvy and everything and hands-on we can get, we're going to be doing so much work to help the future generations. Make things more even. I mean we make up basically half the population, so why are we not half the population in powerful positions or in manufacturing, especially in hydraulics?
Nancy:
I think that when I've talked to other women that have come on the show we've talked about how there's a lack of women in the space and we've talked about you know what we as generations need to do for the younger generations to let them know that they these are options for them; that you can you can do these things if this is something that excites you if this is something that you know you have a real passion and interest about you should absolutely pursue it and to encourage and give them that confidence to go into the industrial and manufacturing space because women do have a lot to offer.
The thing that I'm really feeling good about is not only from talking to you but some other ladies is that the younger male generation has been more accepting of women in the space and you know working with them as peers and giving them the respect that they deserve I think is a step in the right direction.
Amanda:
Oh yeah certainly. My previous engineering manager at a previous company I worked at, he treated everything as just it was just black and white. It was, you say you can do this, okay then do it. It was just like, okay, I trust what you're saying, and that really gave me a lot of confidence, and helped me when I first started to gain that confidence in myself but also to get the experience, which if I didn't have someone like that, that was respecting when I said I can go and work in the shop and go get something done myself, and for him to say yeah go ahead, it helped me get a lot more experience than I would normally get just because of that trust and him not seeing genders or anything like that. He just says what's your capabilities, if you can do that, go ahead like do that.
You see the older generation that they still kind of have their biases. They'll be chivalrous, but it's in a way that you're like no, I can do this wiring myself. They're like no no no I'll do it for you. I'm like no, please let me do this myself; this is my job, and also I like getting that experience. To not let women have that hands-on experience because you're trying to be chivalrous is really just robbing women in general of gaining more technical prowess and hands-on learning.
I fully agree with if it's something you can do, or if it's something you'd like to do, you should just be able to do it. Don't say you can do more than you can. I'm not going to claim I can lift as much as a big bulky 6-3 shop guy, but I'm going to do everything I can do, and I think that other women should take advantage of that too.
I mean if you get the chance to gain experience like that, it's only going to make you feel more confident in the future to new experiences but also demonstrating your current knowledge. I'm looking forward to the younger generations getting in higher roles and less of that stigma that women are delicate or anything like that.
I can throw on my steel toes and hard hat just like anybody else and do the same stuff. Like I said, I might not be able to lift as much sometimes, but other than that I've never really ran into something that a man could do better than me in the space.
Nancy:
Kudos to you, there we go, girl power. We talked about speaking of the younger generation. We talked about a mentoring program that you worked on with robotics. Can you speak to that for a little bit?
Amanda:
Sure. When I lived in Fort Lauderdale, I actually volunteered. It's actually one of my customers that let me know about it. It's the FIRST Robotics. It's held by I think it's Allen Bradley and they have all these robotics competitions for high schoolers all around the country.
What I was really happy about, and which really made me passionate about it is there were so many girls in this program at this high school. It was probably at least 25 if not 30 of the class were women, and they were both on the mechanical side and on the control side for the robots.
That was really exciting to see. That's what's helping, I think, change that generational mindset, just helping them and encouraging them along the way to, hey, you know you can you this, you should present these ideas to everybody, these are great. Even just working with their male counterparts but being held as an equal and not looked down upon or anything like that. It was really inspirational.
I felt really good about being a part of that just because of showing that women can know what they're doing and then supporting women who are going to be our future engineers or future women in industry.
Nancy:
Absolutely and I think that's what it's going to take. It's just going to take all of us showing, proving what can be done and just making sure that they have the confidence in themselves to do it.
Amanda:
Definitely I mean it's us proving and it's also companies becoming like you were saying, like the better workplace culture and more diverse which will show other companies it's very easy to do and be successful And also you probably will grow more the more diverse you get; you'll grow quickly and much more rapidly than the same group of guys who have the same mindset coming up with the same ideas that have been done for 20 plus years.
It just doesn't work in this new economy and all the new technical advances. It's just like I said, I think it's on an individual basis, but also you know, promoting companies that do have that diversity and that they're doing the right thing and showing other people it's not that hard, it's really not.
Nancy:
Exactly, it can be done. Amanda, thank you so much for coming on the show and sharing your insight and the best of luck to you. I just really appreciate all the information that you shared with us today.
Amanda:
All the support moves forward with continuing to do that. Thank you so much. It's really important, and I think you're doing an amazing job.
Nancy:
Thank you. Thank you, I really appreciate that.