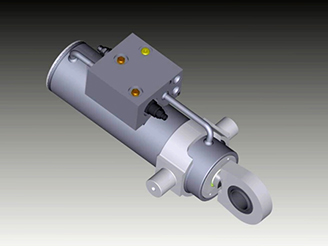 Custom hydraulic cylinders come in a wide variety of configurations including, but not limited to, integrated manifolds with valving, special port arrangements, cushioning, various mounting styles, and shafting and seal arrangements to meet the specific conditions of an application.  
Columbus Hydraulics designs custom solutions to your hydraulic cylinder application's specific parameters, that can include making them non-repairable, changing the head, adjusting bore sizes, adding integrated valves, constructing them from certain metals, painting them or a variety of other customizations.  
Our experienced engineers solve problems with cylinders failing in the field, make them easier to assemble into your equipment, and increase their service life. Our custom-made hydraulic cylinders will fit your application exactly.
Where Are Custom Hydraulic Cylinders Used?
Custom hydraulic cylinders are used in applications that demand robust designs, while meeting very specific configuration, performance, and operational parameters. Common applications include equipment for construction, agriculture, material handling, work trucks and industrial environments. 
Let's get started on your custom cylinder design. Contact us to share the specifics of your application and get end-to-end support from our engineering team.
If you don't need a custom cylinder, then find stock cylinders here:
Cheetah Hydraulics