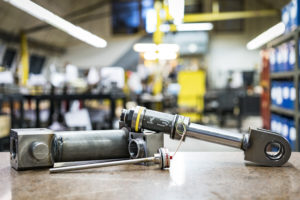 Work with expert hydraulic cylinder design engineers to develop custom welded hydraulic cylinders that are ideally suited to your specific application. There are a wide range of options and considerations for your custom cylinder, including: 
Size. 

We can develop cylinders with 1- to 9-inch bore and stroke up to 12 feet

 

Duty.

 We'll help you determine whether you need light-, medium- or heavy-duty

,

 up to 5,000 psi

, hydraulic cylinders

.

 

Style

. 

Select the best style for your cylinder, whether that's single- or double-action, displacement or piggyback style.

 

Mounting.

 

Choose from clevis, trunnion, single-tang, plate, or double-ended cylinder mounting

 styles.

 

Shafting. 

There are multiple shafting materials available including chrome plated, nitrided, and induction-hardened chrome plated shafting.

 

Integration. 

Our engineers can help develop manifolds with valve integration for base, head or tube mounted.

 

Options. 

We'll help you select the best options for optimizing your cylinders including port block fluid lines and cushioning.

Smarts. 

Smart cylinders incorporate sensors for accurate feedback and optimizing electrohydraulic control

. O

ur engineers will guide you through the smart solutions for your custom cylinders.

Seals.

 

Columbus Hydraulics inventories thousands of different seals for a variety of applications and sizes ensuring that the seals used in your hydraulic cylinders will perform.

 
Let's get started on your custom cylinder design
Contact us to share the specifics of your application and get end-to-end support from our engineering team