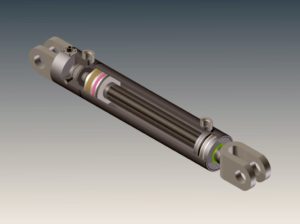 A "Smart" Cylinder is a type of hydraulic cylinder that incorporates a linear sensor (either internally or externally) to provide very accurate feedback of position and speed. Electro-hydraulic control provides the opportunity to combine the "smart" cylinder feature with other machine functions for improved overall efficiency and performance
Where Are "Smart" Hydraulic Cylinders Used?
Where precise height or depth control are needed
Endless possibilities on equipment used for drilling, cutting, digging, leveling, etc.
Industries That Use "Smart" Hydraulic Cylinders
Refuse
Road Building Equipment
Cranes/Material Handling Equipment
Turf Equipment
Fire & Rescue Equipment