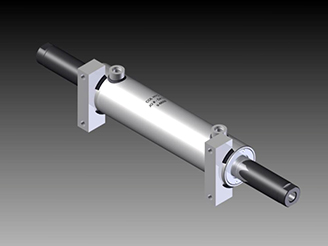 A Double-Ended Cylinders this a type of double action cylinder with the piston in the center and a rod extending out both ends for the purpose of attaching and moving a load accordingly. This type of cylinder can be mounted at the head ends or in the center.
Where Are Double-Ended Cylinders Used?
Common application is a steering cylinder. Attachments can be as simple as shaft through holes and more sophisticated with spherical ball joints for side load and movement freedom.
Industries That Use Double-Ended Cylinders
Steering axles for a wide range of mobile applications, including:

Agriculture
Construction
Turf Equipment
Trenchers
Airport Support Equipment
…and many more!